WHY CLEAN FUEL MATTERS
- Fuel injection system components (injectors and pressure pumps) on new generation motors are manufactured to very tight tolerences (3-5 microns).
- Contamination in fuel will cause ineffective combustion hence carbon emmissions. Carbon out of tail-pipe is MONEY OUT OF CHIMNEY.
ADVANTAGES:
- Injector and pump wear, and injector blockage is reduced .
- Fuel saving: Users report 3,5 - 7% of fuel saving in total.
- OEM fuel filter element life increases.
- Emmissions are reduced (which shows that all injected liquid is contaminant-free fuel and all the quantity is burnt.) and diesel particle filter life is improved.
APPLICATION
- Fuel dispenser pump outlet
- On fuel dispensing tanker
- On-board in-line on vehicle/machine fuel system.
- As a mobile filtration buggy (with or without motor-pump).
EFFICIENT COMBUSTION:
Considerable reduction in emmision values has been reported after a research conducted by the Berkeley University in California where effect of filtration on combustion efficiency was tested...>>>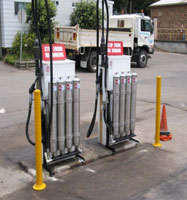 Yakıtını kendi pompa istasyonundan sağlayan işletmeler için yakıt pompa istasyon çıkışına filtre bağlantısı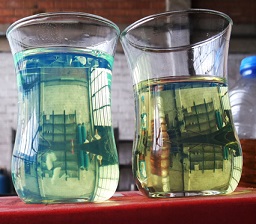 Left: Euro-diesel fuel as commercially available Right: Filtered by 2 micron depth filter.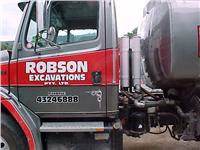 Filtration system assembled on fuel dispenser tanker
OFF-LINE FILTRATION FOR MAINTENANCE
Oil in the sump may be periodically cleaned by filtering (suction from and return into sump) by use of 2 or 4 Lpm 2 mobile filtration unit.

A

frequent filtration is strongly suggested as clean oil will prevent bearing and crankshaft journal wear, increase oil life and avoid engine power loss.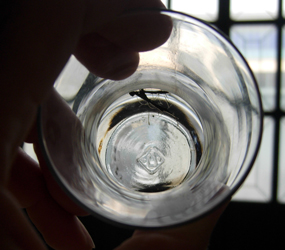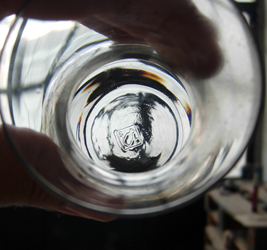 Kirli dizel motor yağı ve filtremizden geçmiş görünümü. Cam çeperlerinde kirli yağda puslu görünüme karşılık filtreli yağda berrak görünüm (Büyük fotograf için bkz......>>>)
WHY DO WE DRAIN ENGINE OIL:
Two different aspects are considered:
Oil's properties: TBN and viscosity
Engine's wear risk: soot and contamination level are observed.
Analysis show that engine oil is changed due to contamination and soot accumulation before the oil properties are depleted. As a general rule, halving of TBN (Total Base Number) or change of viscosity by more than 10% are considered as limits for changing the oil. Read more.>>>>
BY-PASS CONNECTION ON LUBE CIRCUIT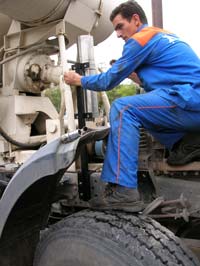 A by-pass in-line connection on a truck-mixer lube oil circuit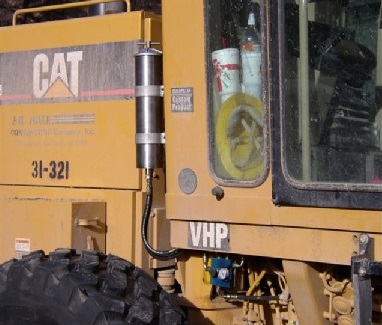 A by-pass in-line connection on a construction machine's engine lube oil circuit

Contamination and soot makes the oil more viscous, which means heat and reluctance to flow. Overheat is a killer. Remember piston heads are cooled by spraying of oil jet.

ADVANTAGES

- Extend diesel engine oil life

- Extend engine OEM oil filter by 4-5 times

- Reduce engine bearing life

-

Reduce wear and friction to improve engine performance